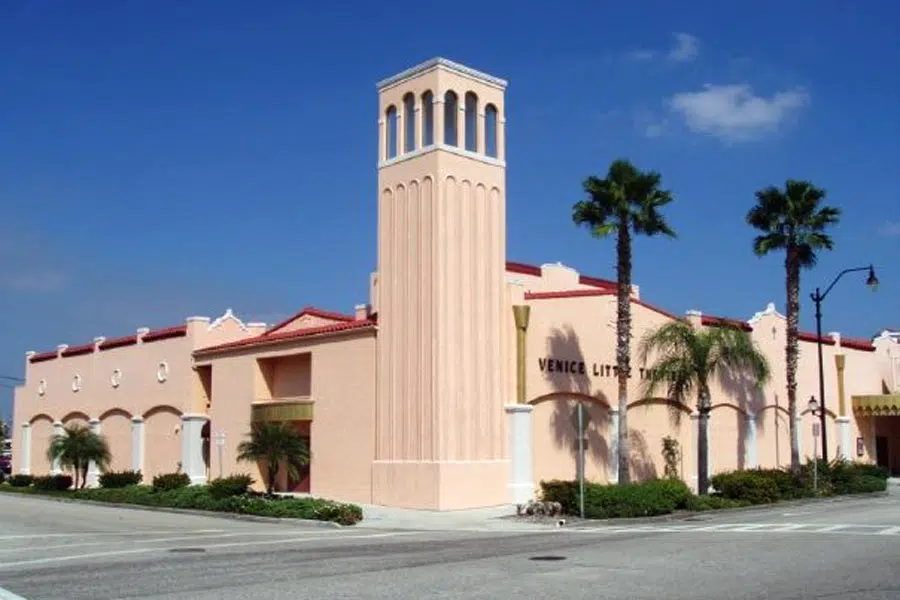 Treat yourself to some fantastic live entertainment with a visit to the award winning Venice Theatre! The Venice Theatre is one of the largest community theaters in the country and less than 5 minutes from Banyan House.
There's nothing quite as engaging as live entertainment and the Venice Theatre has been providing that to local audiences since 1950. Previously known as the Venice Little Theatre, it is the second largest community theater in the United States.
It's located at 140 Tampa Ave. W, in Venice, FL, just under a mile from our Venice Florida vacation rentals. The theater is housed in an building that was once part of the Kentucky Military Institute. The theater bought the building in 1973 and spent a 2020 equivalent of $1,021,000 renovating it to its current glory.
Visitors to the theater will find not one but two stages inside. The 432-seat Jervey Theatre has 13 rows of seats and a 3-row balcony, with all seats within 50 feet of the stage. The Yvonne Pinkerton Theatre, on the other hand, is a 90-seat, "black box" theatre. In the smaller theatre, seats are not static but arranged to suit each production's design.
The Venice Theater puts shows on all year long. Broadway musicals, classics, contemporary dramas, comedies, family theater, cabarets, concerts, and more. The theater also hosts aactWORLDFEST.
aactWORLDFEST is a week-long, international community theater festival featuring theater groups from all over the globe. 2022's festival promises theater companies from Brazil, France, Egypt, Armenia, United Kingdom, Georgia, Germany, Italy, Israel, Poland, and Ukraine. June 20th through the 26th, 2022.
Did we mention that there's even a bar and lounge on the premises?
Upcoming 2022 Venice Theatre Productions
Harper Lee's To Kill a Mockingbird – April 15 to May 1
Blackbird – April 15 to May 1
Alter Eagles Eagles Tribute Band- April 24-25
A Tribute to Barbra starring Sharon Owens – May 1-2
Pinky's Players Present "Great Stories Well Played on a Bench" – May 4-5
Hamlet – May 13-19
The Wind in the Willows – May 20-29
aactWORLDFEST – June 20-26
Shows in the Jervey Theatre are reserved seating only while those in the The Pinkerton are general admission, seated first-come/first-served. Handicapped-accessible seating is available in both theaters but must be reserved before hand. Lobby doors open one hour before performance time. Theater doors open for seating 30 minutes before performance time.
Visit the theater website for tickets and more information. You can also find the theater on Facebook.