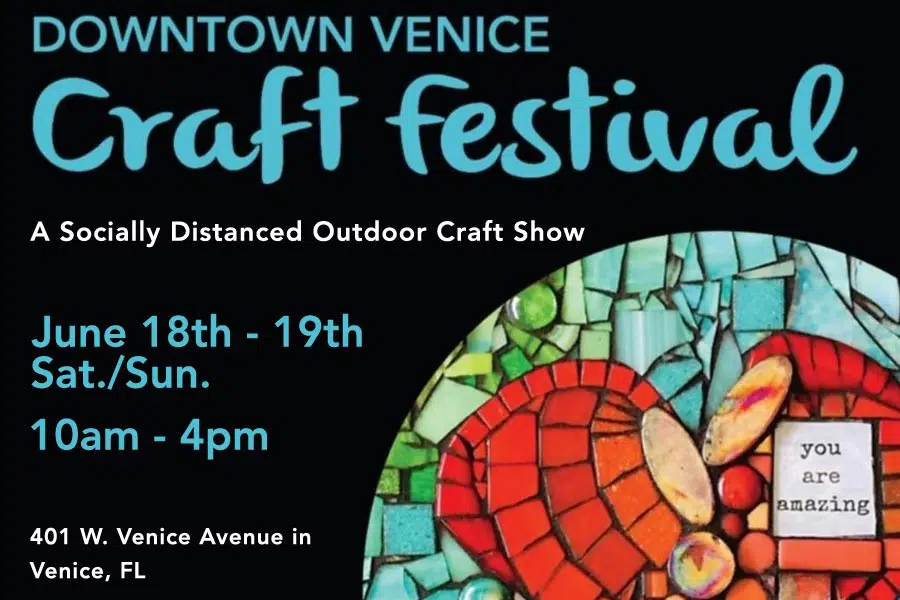 Looking for a fun distraction during your Venice, FL getaway? Consider attending the 29th annual Downtown Venice Craft Festival and peruse the unique offerings from some of the country's finest artisans and crafters! June 18th and 19th, 2022.
If you enjoy shopping for handcrafted gifts, you'll love the the Downtown Venice Craft Festival. This popular, annual event draws a large number of talented artisans to Venice every year. Some of the very best craftspeople in the country are on hand with fantastic, one of a kind wares.
There is nothing quite like a craft festival for seeing unique items and meeting interesting people. In fact, one of the best things about a craft show is the chance to talk with the artisans themselves. Many are willing to discuss their process or provide some other insight that only enriches their offerings and your experience.
Attendees will discover a world of unique items for sale at the festival. Decorative and whimsical items as well as handy things for your house and yard. Jewelry, apparel, ceramics, sculpture, tools, kitchen wares, wood carvings, soaps, stained glass, and more.
You'll also find a variety of edibles at the festival. Tangy BBQ sauces, jams and jellies, rubs, baked goods, and more! You say that you're a fan of growing things? Check out the Green Market for a variety of plants, like orchids, aloe vera, cactus, hoya, peace lilies, and others.
29th Annual Downtown Venice Craft Festival
This year's festival is scheduled for the weekend of June 18th and 19th, 2022, 10am to 4pm, at 200 West Miami Avenue in Venice, FL.
The festival is less than a mile north of your Banyan House vacation rental. Get there by car in just two minutes or enjoy the pleasant, 15 minute stroll up Harbor Drive to the event on Miami Avenue W. Best of all, admission is free. Any cash you spend will be on something you can take home with you – what fun!
Visit www.artfestival.com for more information on the festival.