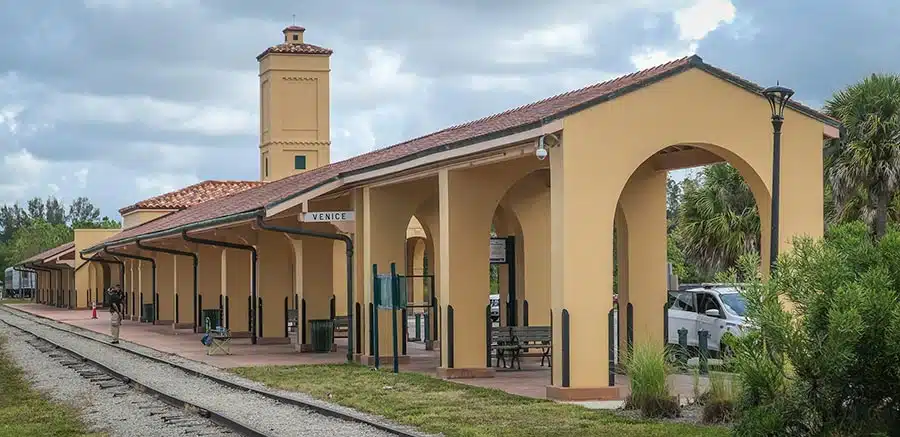 History and railroad buffs will enjoy stepping back in time with a visit to the historic, 1927 Venice Train Depot. The beautifully preserved, historically significant building played an important role in local history and is the only surviving passenger station in Sarasota County.
The 1927 Venice Train Depot and its regular rail service were central to the founding and development of Venice, Florida. The station was the arrival point for people moving to the area in the 1920's, with passenger service continuing into 1971. Venice Army Air Base relied on the trains to deliver personnel and supplies during World War II. Perhaps most interesting, the Ringling Bros. & Barnum and Bailey Circus, which wintered in Venice from 1960 to 1991, used railway services to travel the country.
The depot was officially closed in 1975, listed on National Register of Historic Places in 1989, and was purchased by Sarasota County in 1999. The historic building was renovated between 2002 and 2003 before opening to the public. The adjacent Rollins W. Coakley Railroad Park was dedicated in 2005. A refurbished Ringling Bros. and Barnum & Bailey train car was added to the depot campus in 2021.
The historic Venice Train Depot is located at 303 E. Venice Avenue, just across the Intracoastal Waterway, and offers self-guided and docent led tours. Best of all, it is only a 5 minute drive from Banyan House, Venice Florida vacation rentals.
Visit and Tour the 1927 Venice Train Depot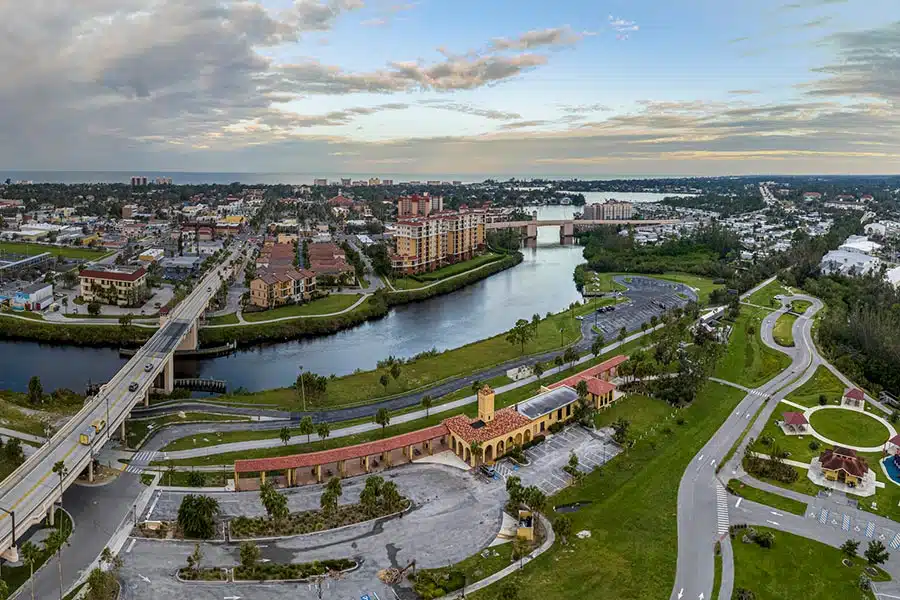 Visitors to the Depot are more than welcome to enjoy a self-guided tour of the grounds and adjacent Railroad Park. Panel displays in the Depot waiting rooms illustrate important historical events for Venice, the depot, and railway.
Next door, the Rollins W. Coakley Railroad Park offers a restored caboose and circus car, scenic walkways, and picnic tables. Both railroad cars are historic. The caboose is a Louisville & Nashville 6445, built in 1974, and the circus car a 1953 Pullman Standard. The circus car is particularly popular and illuminates what performers' lives aboard a circus train were like.
You'll also find a statue of Gunther Gebel-Williams in the park. Gunther Gebel-Williams was a world famous animal trainer and star for Ringling Bros. and Barnum & Bailey Circus from 1968 to 1990.
Feel free to explore and enjoy the exhibits and park at your own pace. You can even enjoy a picnic lunch at one of the tables, if you wish. Alternately, the park also offers free, docent-led tours of the Depot campus on certain dates throughout the year.
Visit veniceareahistoricalsociety.org for more information. You can also find the depot on Facebook.