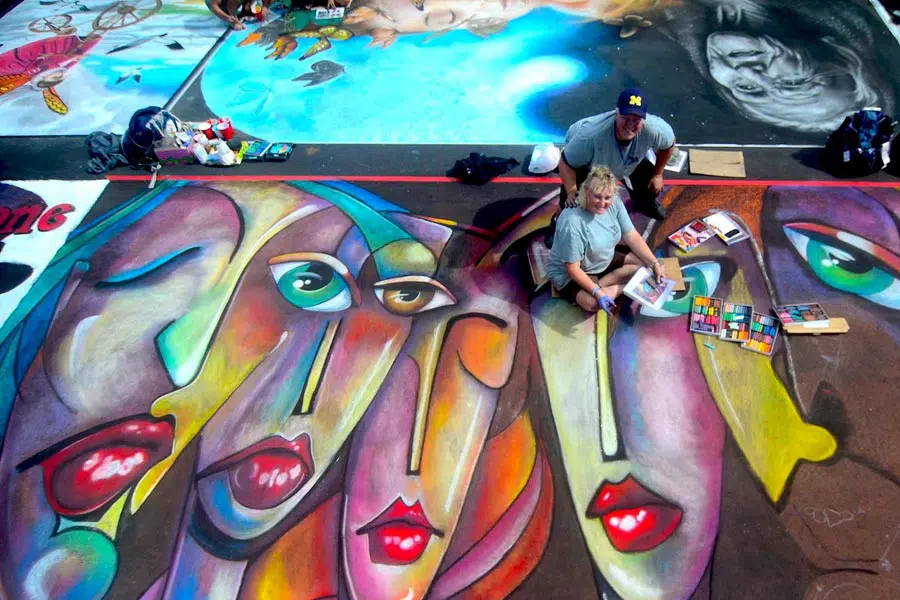 If you like big, bright, beautiful, and occasionally mind-bending art, then won't want to miss the 2022 Sarasota Chalk Festival. April 1st through the 3rd, at the Venice Florida Airport.
After a couple of pandemic-effected years, the popular Chalk Festival returns with 3 days of fun in the sun and fantastic chalk art.
Sarasota Chalk Festival has been an annual tradition in the area since 2010. It moved from Sarasota to Venice in 2014 and was renamed the International Chalk Festival. Most people still know it by its original name, however.
As with so many of the best experiences in life, the annual Chalk Festival is one of those things you really have to experience in person to fully appreciate. If small children on the sidewalk scribbling with giant sticks of chalk is the first thing you picture when you hear "chalk art," you're in for a shock.
The graphic work at the chalk festival are true works of art. The sheer beauty and artistry that can be created using just chalk and pavement is truly surprising. Professional pavement artists come to Venice from around the world every year to create eye-popping, oversized masterpieces in chalk.
Many are demonstrations in 3d illusion, seeming to rise up off the pavement … or burrow down deep within it. In fact, the festival also features 3D Illusion Rooms with art that is so immersive you won't believe your eyes.
Sarasota Chalk Festival 2022
The festival opens with the artists about half way through their large, individual works of art. They'll continue to work through the first two days of the festival, completing their art by the end of the second day. The third day is a day of viewing and appreciating the completed works. So large, so beautiful, so temporary.
Many say a 3 day pass is the only way to truly experience the Chalk Festival. Attending all three days allows you to watch the art slowly unfold from the artist's skilled hands. The festival also includes craft vendors, live music, food trucks, and a beer garden.

Sarasota Chalk Festival 2022 is scheduled for April 1st through the 3rd, at the Venice Municipal Airport, as usual. Guests of Banyan House will be thrilled to learn this is just 4 minutes away from our Florida vacation rentals. How's that for convenience?
Visit the International Chalk Festival website for tickets and more information. You can also find this event on Facebook.